Your professors are right. A secondary source is a great place to find your pinnacle case that can easily launch your research. This quick video will teach you what secondary source you should start with to begin your research, then put your skills into action
Before You Go Further: Create Folders for Your Research
Time Saving Tip: You can base your folders on your rule statement, using each key element as a subfolder. This will help you really stay organized! 
Step 2: Find Your Rules in a Pinnacle Case
Launching Pad: You Only Need One Great Resource to Start 
Use Smart Search Terms 

Identify basic components of your problem to maximize your research by selecting "smart search terms"
 
You can quickly access jury instructions (or almost anything on Westlaw Edge) by typing the name of the content for which you are searching into the global search bar at the top of the screen and selecting the appropriate type of content.
Once you are on the Jury Instruction content page, you can:
Run a search;
Browse available titles; and/or
Filter down by jurisdiction and topic, among other options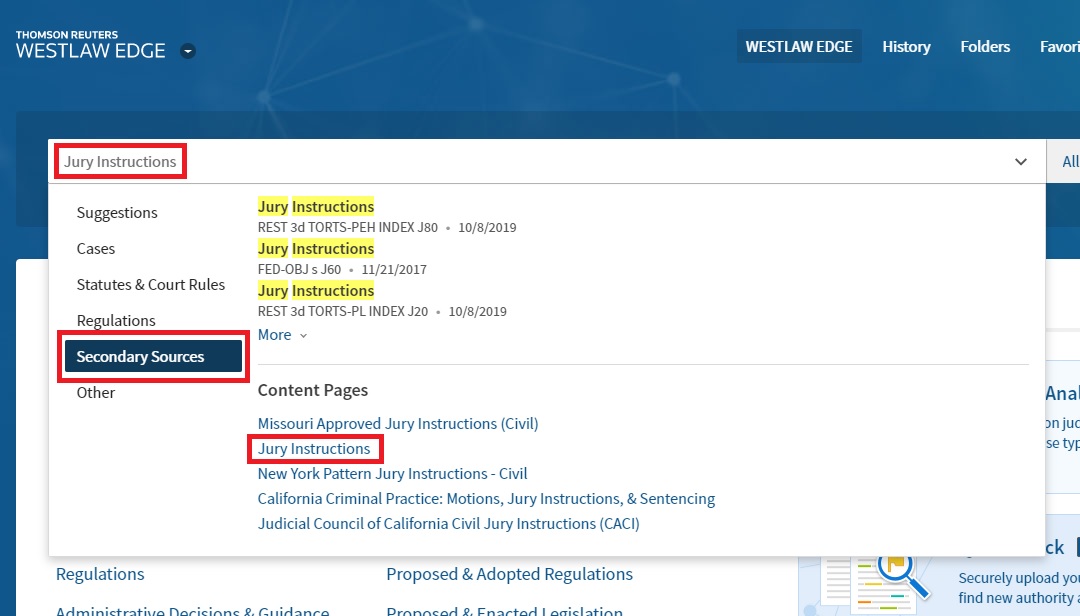 For a lot of 1L students, writing the analysis can be the trickiest part of the open memo. 
How do you effectively get your point across? How can you strategically fold in rules and facts to clearly articulate your argument?
Luckily, you have some of the best writing tools used by Am Law 50 firms at your fingertips! 
You'll need more than one source. Quickly expand your research!
Once you've located your pinnacle or launching pad case, you'll want to use that case to locate related authority. 
Identify relevant headnotes, then run a topic and key number search to retrieve relevant cases classified to the same issue.
Quick Tip: For cases, you can use Key Numbers to find additional headnotes from any jurisdiction on the same issue.  You can also take a peek at the Table of Authorities to see what cases your case cited to! 
The editorial enhancements placed on each case by our attorney editors make expanding research so easy!!
Quick Tip: After running a search, sort your results list by "most cited" to view the leading cases first.
Tip: See what's missing from your quoted cases with Quick Check.
Learn to Use Quick Check in Two Steps